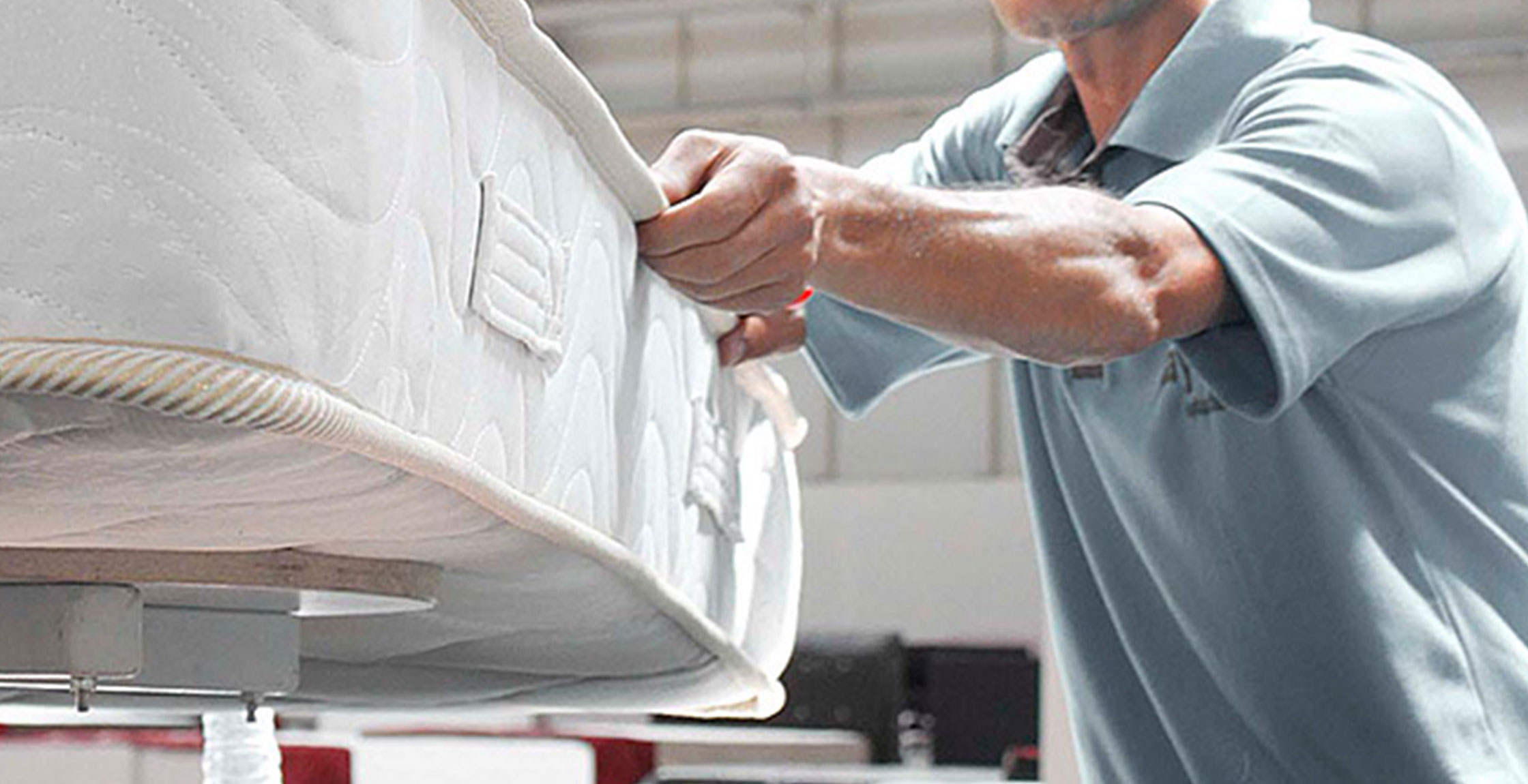 What happens to mattresses returned in comfort guarantees?
Online 'bed in a box' retailers were introduced to the market over 15 years ago, but in recent years have grown in popularity and taken the industry by storm. During the pandemic many online mattress retailers reported record sales figures including Simba, which saw a 220% increase in sales during the lockdown1. Many of these online retailers offer a guaranteed free return, ranging from 100 to 300 night trials. As sales soar, the knock-on effect has been an increase in product returns, with online mattress retailers seeing returns as high as 40%2, posing a significant problem for the retailers and the environment. 
TFR Group has developed and implemented groundbreaking technology dedicated to overhauling the recycling process, focusing on refurbishing and rejuvenating the bed in a box foam mattresses that have been returned within the comfort guarantee trial.
Partnering with several national online mattress retailers to provide the new service, TFR Group provides retailers with significant cost savings, whilst increasing efficiency, by refurbishing 70% of the mattresses that would have previously been recycled. 
How are mattresses refurbished?
On average we rejuvenate over 1,000 traditional and bed in a box mattresses per week, putting our partners' mattresses through a bespoke refurbishment process to ensure they meet the retailer requirements before going on sale. 
We have a strict pass/fail criteria for every mattress, agreed with each retailer. The mattresses that fail are sent for recycling, where they are broken down to continue their lifecycle in another form. 
The mattresses that pass are put through our bespoke sanitisation system, with data captured at every stage of the process to ensure full transparency of the process. The researched and developed technology, which has been created  in-house at TFR Group, sanitises 100% of the mattress surface, before being checked, re-compressed and packaged for resale.
If the mattress has removable covers, these are stripped and sanitised to NHS cleanliness standards before being reused. 
Each mattress complies with BS1425 1991.  
Signs of a refurbished mattress
Certification
Retailers such as Nectar, Simba and eve Sleep all offer mattress refurbishment with the help of our rejuvenation facility. When retailers sell their refurbished mattresses online, they provide branded certification which showcases their seal of approval on the cleanliness and reliability of the product. Without these certifications, consumers can be left in the dark about the product they are receiving and its quality. Make sure to look out for a branded refurbishment certification to give you peace of mind before purchase. 
Materials
Foam mattresses can be rejuvenated very easily using a specially designed machine that sanitises, vacuum packs and rolls up the mattresses, ready to be sold. More traditional style pocket sprung or open coil mattresses cannot be rejuvenated due to the components within the product. We help retailers to divert these bulky waste items away from landfill and recycle all the components within the mattress. It's important to check the product information online before purchasing to make sure that you are in fact buying a rejuvenated foam mattress. 
Pricing
Refurbished mattresses not only divert unnecessary waste from landfill, but allow retailers to retain the asset value by offering a second life to the commodity. Rejuvenated mattresses have usually only been used for a few nights sleep, which means retailers cannot market them as new, and sell them at a discounted rate. With many customers looking for a good deal, the quality guarantee means they're getting a good-as-new product at a lower cost. 
Retailer information
Reputable brands such as eve Sleep and Simba take great pride in refurbishing their mattresses through our service. Brands will showcase their sustainability practices and credentials on their website, with many providing details of the rejuvenation process that their mattresses go through before being sold. Mattress refurbishment should always be made very clear by suppliers and retailers to ensure consumers are aware before purchasing. 
How the mattress resale service works
To help our customers recoup losses from product returns, we list approved mattresses on behalf of our clients through our recommerce service. Our service provides a higher return for retailers than common channels, such as auction houses. 
We provide clients with fully tracked listings and weekly reports on the ageing criteria of each individual mattress currently in stock. All purchases will be delivered within 3-5 working days. 
With many of the UK's largest brands now investing in mattress recycling and rejuvenation, this emerging market is set to take the industry by storm – not only changing the way consumers shop, but how businesses incorporate the circular economy into their business models moving forward.
Take a look at our case studies to learn more about how we support retailers. 
References
1 Sunday Times 
2 Sleep Bear